1. Install Aptoide Client in your device
(if it is not yet installed)
To install Applications from Aptoide you need to install Aptoide Client.
1.1 You can use one of the following ways:
- Download aptoide.apk and install it in your phone:
- Or scan this QR code with your Android device: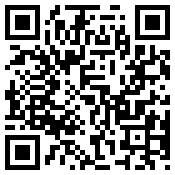 1.2 After the download is complete, go to the notification bar and press de application name (Aptoide.apk) to start installing Aptoide.
1.3 Click in "Install" button to finish Aptoide installation.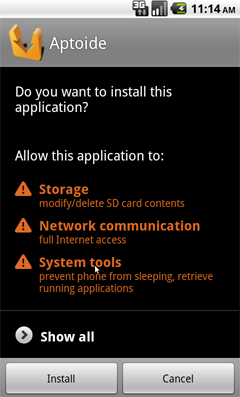 2. Browse through the applications and choose one to install
2.1 Access this application in Aptoide Mobile, by clicking here or scanning the QR Code below.
AppDrawer
QR Code


Click the Install button!
Specifications:
Min SDK:
7
Min Screen:
Small
Permissions:
com.android.launcher.permission.INSTALL_SHORTCUT
android.permission.INTERNET
Allows applications to open network sockets.
android.permission.BROADCAST_PACKAGE_REMOVED
Allows an application to broadcast a notification that an application package has been removed.
android.permission.PERSISTENT_ACTIVITY
This functionality will be removed in the future; please do not use. Allow an application to make its activities persistent.
android.permission.RECEIVE_BOOT_COMPLETED
Allows an application to receive the ACTION_BOOT_COMPLETED that is broadcast after the system finishes booting. If you don't request this permission, you will not receive the broadcast at that time. Though holding this permission does not have any security implications, it can have a negative impact on the user experience by increasing the amount of time it takes the system to start and allowing applications to have themselves running without the user being aware of them. As such, you must explicitly declare your use of this facility to make that visible to the user.
android.permission.WRITE_EXTERNAL_STORAGE
Allows an application to write to external storage.
Description:
A highly customizable alternative to your launcher's default app drawer.

 

AppDrawer is a highly customizable app drawer replacement. You can use it as an alternative to your launcher's default app drawer, or to add functionality to launchers that don't currently support the app drawer (like MIUI for example).


You can use with pretty much any launcher, including: your phone's default launcher, Go Launcher, ADW Launcher, LauncherPro, Apex Launcher, Nova Launcher, Launcher 7, MIUI Launcher, and more!


There are similar offerings out there, such as Faster Drawer -- or Organized Drawer -- or even Folder Organizer, but nothing comes close to offering the level of personalization that AppDrawer provides. With AppDrawer, you can literally flesh out hundreds of unique designs and layouts using all the different options to your disposal. Some of those options include...


——————————


APP HIGHLIGHTS:

[✓] Choose between 3 view modes: List, Grid, or Horizontal Paged

--- List = WP7/Windows Phone 7 | Grid = Android | Paged = iPhone

[✓] Set number of rows and columns as well as row spacing

[✓] Set background color, image, or use your current wallpaper

[✓] Set the font type, font color, font size, and icon size

--- Fonts = Arial Rounded, Droid Serif, Helvetica, or custom

[✓] Sort list by name (A-Z), install date, or launch frequency

[✓] Remember list position: Remembers last position in drawer

[✓] Edit application names and change default application icons

[✓] Hide less frequently used applications from the app list

[✓] Bulk edit (multi-select) more than one application at a time

[✓] Fullscreen mode option: Hides the notification/status bar

[✓] Option to force Portrait or Landscape screen orientation

[✓] Shows up in recent apps/multitasking menu for quick access

--- 2.1/2.2/2.3: Hold home key | 4.0: Press multi-task button

[✓] Quick shortcut to Android's Manage Applications settings menu

[✓] Option to backup and restore preferences, or reset to default

[✓] Eclair | Froyo | GB/Gingerbread | ICS/Ice Cream Sandwich


——————————


NOTED ISSUES:

[•] AppDrawer may be slow to open on certain phone/ROM/launcher combinations. We are working on incorporating a permanent fix, but until then, those who have ROOT ACCESS can manually resolve this issue by moving the AppDrawer APK to /system/apps/ and reboot -- You can do this manually with file explorer apps like Root Explorer or automatically with Titanium Backup's "Convert To System App" function. Contact us at Support@JakedUp.com if you are unsure.


[•] The "Multi-Select" --> "Select All" option in List or Paged view modes will force close. We are also working on a fix. Until then, manually check the apps that you want to edit.


——————————


ADDITIONAL INFO:

Initial source code credit goes to XUSO over at XDA-Developers. AppDrawer is a continuation of his original AltDrawer project, so if you like this app, then please see that he gets a donation!


We have more features planned for the future, such as bug fixing, optimized performance, app folders, icon packs 'n themes, transition effects, ICS pagination, and more. Have a suggestion? Fire off in the comments and let us know what you would like to see... Just don't rate it for what it should be, rate it for what it is!


——————————


TAGS/KEYWORDS:

AppDrawer, App Drawer, JakedUp, Jaked Up